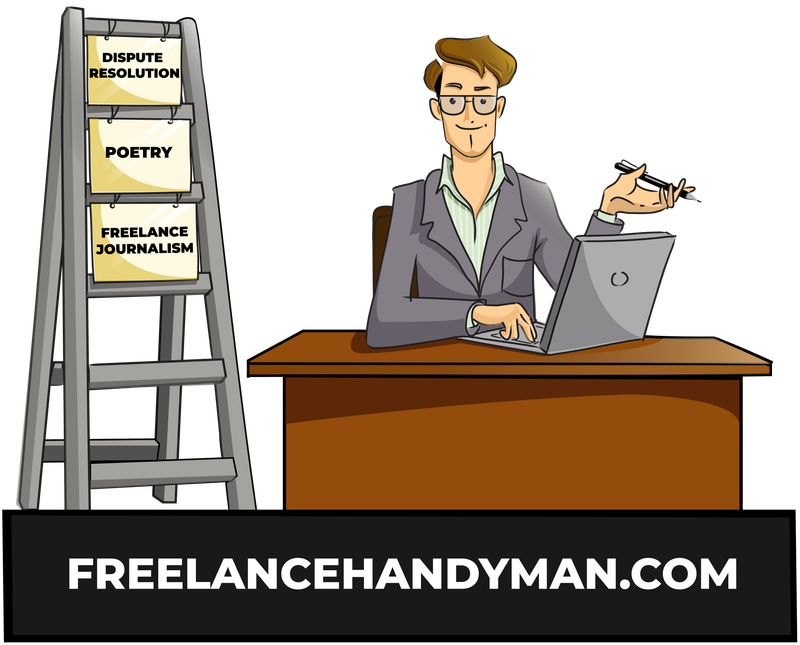 The main benefits of a traditional handyman are to save you or your business time and money for those jobs around the house or office which require a degree of specialism or expertise in a way that is convenient, flexible and cost effective. Handyman Freelance is basically the same principle for those areas of life where the need for a hammer and screwdriver are replaced with pen and paper/mouse and Microsoft word. This might be anything from writing a poem for that special someone for an occasion (or just because you want to) or advancing a letter of complaint or some other form of written dispute resolution with a Bank or Utility Provider, for example.
The Traditional handyman can conjure images of a mercenary charlatan with a pencil behind the ears and not much in-between, save the smell of easy cash for a quick and sloppily done job! Thankfully, mainly due to the internet and social media where reviews and evidence of poor workmanship are easily sourced and shared, negative perceptions and experiences of Handy men are less common. This is a new age for the Handy Man – we are highly skilled and experienced professionals and whilst we offer cost effectiveness due to economies of scale, we do not compromise on quality or ability; we offer a more nuanced, and dedicated customer service, which is tailor made for bespoke freelance for individuals and small businesses.
When employing freelance services, trust in the abilities and expertise in the service provided is paramount. My specific qualifications, experience and abilities for the services offered are set out in more detail in the respective 'services' pages. In summary, I am graduate from an elite University, with 20 years experience in complaint handling/dispute resolution and investment governance. I am Level 4 Qualified from the CII with Diploma in Financial services, journalistic experience and Distinction Diploma from the London School of Journalism and a published poet.
I have paved a successful and proven career in Dispute resolution and investment governance and the skills and knowledge assembled on this career path are ideal for nailing home complaints or disputes. In this area, I come with a full tool kit and knowledge and know- how of the obstacles and pit falls in advancing successful claims and how to overcome them. As importantly, I know how to maximise ways of demonstrating financial detriment and, where applicable, distress and inconvenience.
Writing is my passion. I love the English language and playing with words for fun and for effect. Some examples of my articles, personal profiles and poetry are included in the following pages . I turned my back on writing many years ago, the searing fear of failure was one reason for this. As a younger man, I also lacked the direction, focus and commitment to make the most of my talents, such as they are. I am so looking forward now to helping you with whatever you need, whether it is journalistic, creative, dispute resolution or poetic. To borrow, most aptly from the traditional handyman vernacular – no job is too big or too small.